Dispensing + Air Recycling
TAB Wrapper Tornado orbital wrappers are offered with a wide range of optional accessories to support safe, smooth, consistent operation. These clever engineered solutions were developed to serve customers with uncommonly odd challenges and now they're available off the shelf to solve similar wrapping challenges with ease.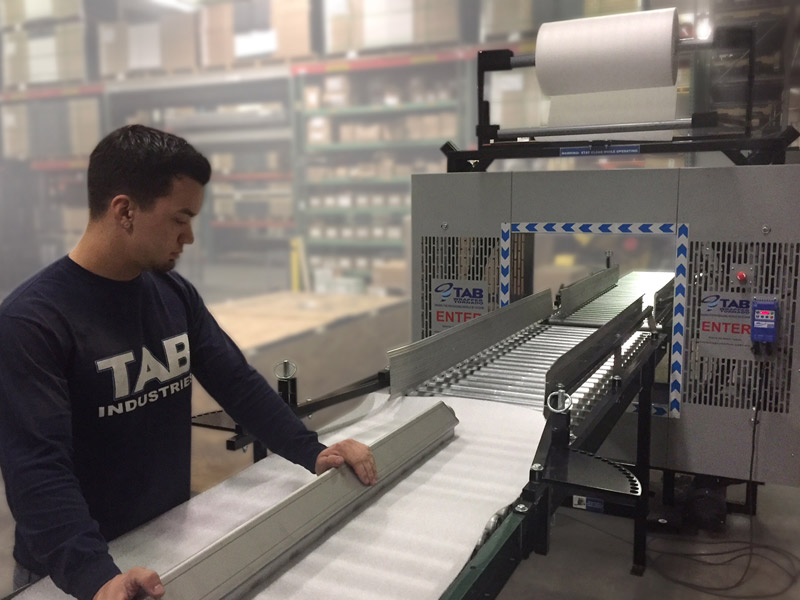 Foam Dispensing System
The dispensing system attaches a roll of foam sheet, corrugated paper, bubble wrap, or another packing material on top of the TAB Wrapper Tornado. This convenience allows an operator to safely add a protective layer of cushioning around delicate, sharp, or oddly shaped products underneath the stretch film during the wrapping process.
The operator safely pulls the desired length from the roll and places it on the product or pallet load as the wrapping process begins. It not only protects the product, it also adds protection for workers on the receiving end.
Air Recycling System
The air recycling assembly automatically prevents the buildup of plastic film scrap on and around the blade. It isn't a common issue but some grades of plastic film like to stay close to the blade. This system captures the hydraulic exhaust air and directs it towards the cutting blade to blow away any excess film before it can become an issue. This ensures smooth, uninterrupted operation. Available on models with the automated cut and wrap device.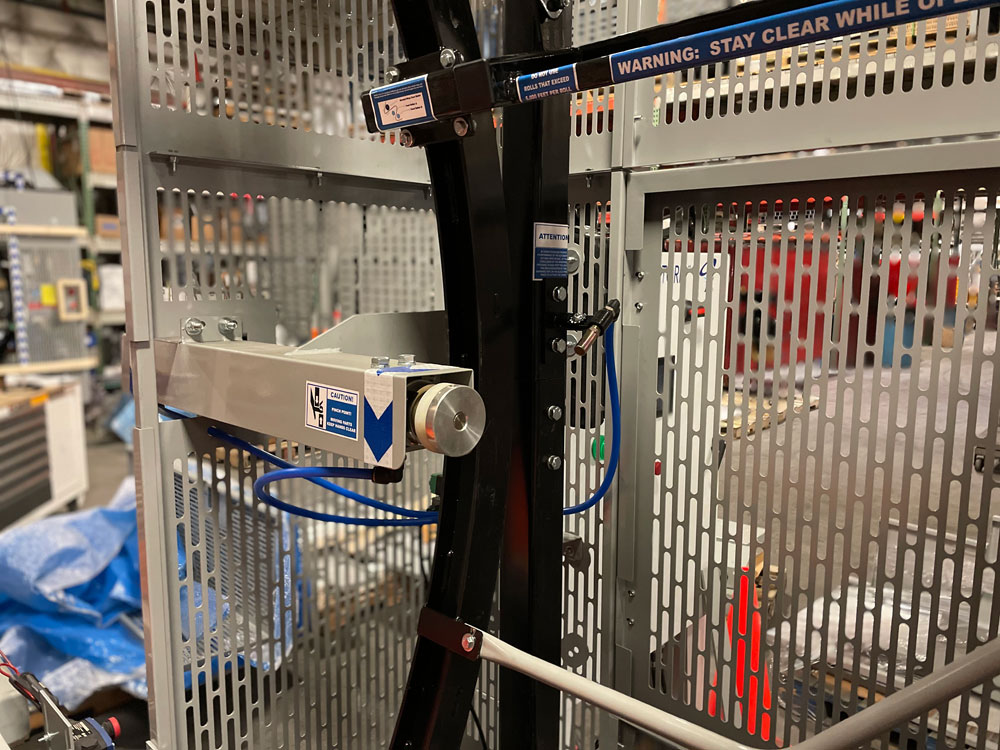 Floor Levelers
Industrial flooring usually isn't perfectly level so the TAB Wrapper Tornado is offered with anti-vibration pad levelers, one at each corner.
"We were looking for an easy efficient way to stretch wrap some very abnormally shaped and various sized pallets for our line of American Fyre Design outdoor fireplaces, BBQ Islands, and Firetables. The old method required units to be banded with metal straps and stretch wrapped. The pallets would not fit on a conventional wrapping machine and therefore had to be wrapped by hand. The TAB WRAPPER TORNADO® eliminated the metal bands as the wrapper secures the product to the pallet and length of the pallet was no longer an issue as it would wrap the longest items we could put through the machine. With the automated stretch wrap cutter, material handlers could stay on the forklift and wrap the item very quickly using the remote control. It has significantly reduced the packaging time for long and odd shaped items."
Dominque Seim
Senior Managing Director
RH Peterson Co.
City of Industry, CA