TAB Wrapper Tornado Dual Dispensing
TAB Wrapper Tornado Dual Dispensing
The latest orbital wrapper model applies stretch wrap at double the speed of the original orbital wrapping machine models. This new TAB Wrapper Tornado Dual Dispensing model features two rolls of stretch wrap instead of one roll to apply twice as much plastic film. It sets two stretch wrap roll dispensers on opposing sides of the orbital wrapping ring to maintain proper balance, and two, companion automated cut and wrap devices to automatically cut the ends of the stretch wrap from both rolls at the same time.
Stretch wrapping a standard pallet load on a TAB Wrapper Tornado typically takes less than 30 seconds. Using this Dual Dispensing orbital stretch wrapper cuts the stretch wrap time down to as little as seven seconds.
The TAB Wrapper Tornado Dual Dispensing model offers all the benefits of the Standard models and adds an extra level of high speed automation. It even allows the use of two different stretch wrap grades to secure pallet loads with different film properties such as stretch, puncture-resistance, opacity, clarity, and color.
TAB Wrapper Tornado Dual Dispensing Model Sizes:
80" Accommodates 48″ x 48″ skid
100″ Accommodates a 60″ x 60″ skid
Call Andy Brizek at 610-921-0012 or abrizek@tabindustries.com for a free quote.
Enhance the Standard models with these optional upgrades: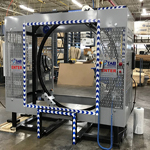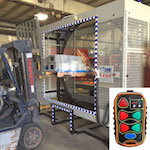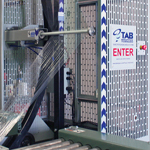 Economic Justification Chart:
"We're getting a much better, more secure wrap every time, even on our longest skids and it wouldn't even be possible to wrap them by hand – I just love this machine!"
mike roeder
president

penn sheet metal
allentown, pa