The TAB Wrapper Tornado Box Wrapper packs the patented orbital wrapping technology into a compact design for packaging small, loose, and low profile parts, and products. It's ideal for securing small pieces to cardboard backing and for bundling multiple long items like metal rods or hockey sticks into a single unit for easier handling and shipping. The wrapped items can be safely delivered without or with less dunnage and other packing materials, often without boxes entirely. Any e-commerce company packing and shipping UPS will appreciate the speed on a tight footprint and the cost savings in packaging materials.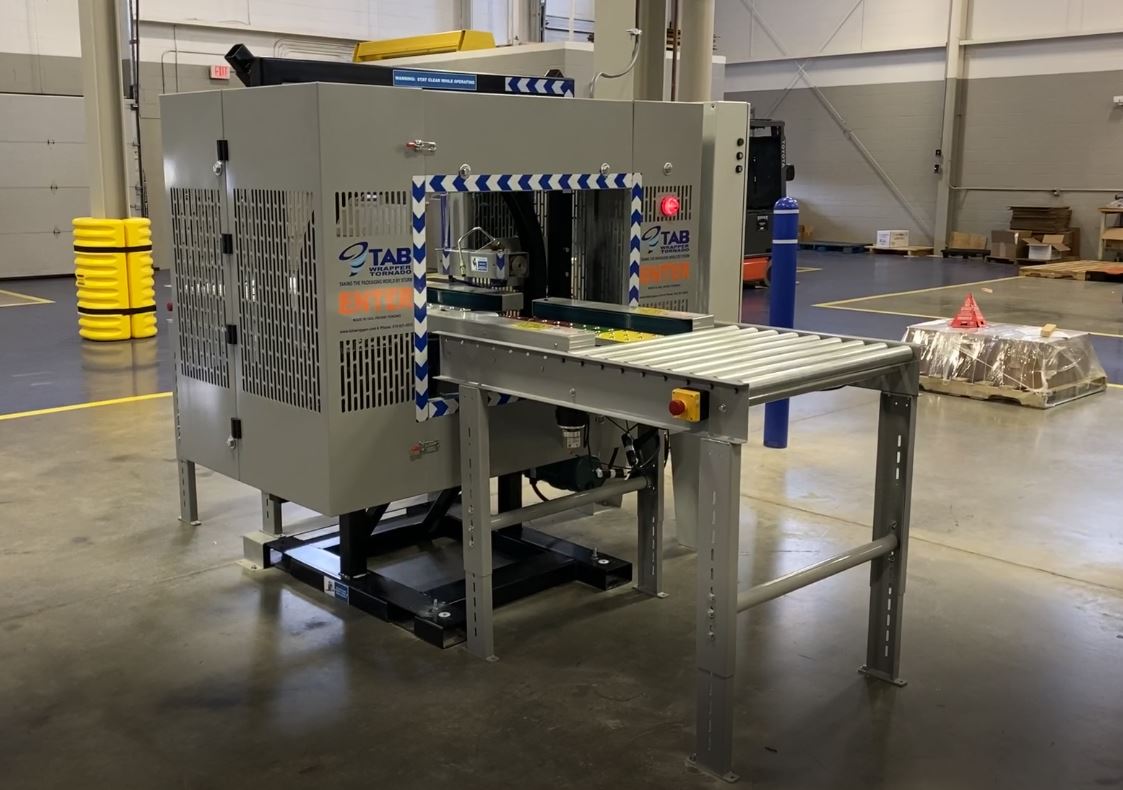 The Box Wrapper integrates the latest TAB Wrapper Tornado touch-screen HMI control panel and automated cut and wrap device on a 40" wrapping ring with built-in infeed and discharge conveyors. Instead of using a forklift to manage the wrapping process, this Box Wrapper is designed for safe loading by hand. The operator places the product on the infeed conveyor then presses the start button on the touch-screen. The compact wrapping system uses powered slider belt guides set on top of the gravity rollers to automatically feed it into the wrapping ring.
It senses the width of the product and gently squeezes and secures it in place for wrapping. It wraps 360 degrees around and under the cardboard backing and the product. Once wrapped, the product is discharged as a tight, unitized package, secured, protected from the elements, and ready for storage or delivery.
Compact Box Wrapper Is Easy to Use
The TAB Wrapper Tornado Box Wrapper features a colorful, touch-screen HMI with a clear, intuitive, visual menu structure that anyone in the picking and packaging department can learn to use safely with confidence in five minutes. The HMI comes pre-loaded with built-in video training guides covering setup, operation, and preventative maintenance. Since these instructional videos stay within the machine at all times, it's easy to review in seconds at any time.
Call Andy Brizek at 610-921-0012 or abrizek@tabindustries.com for a free quote.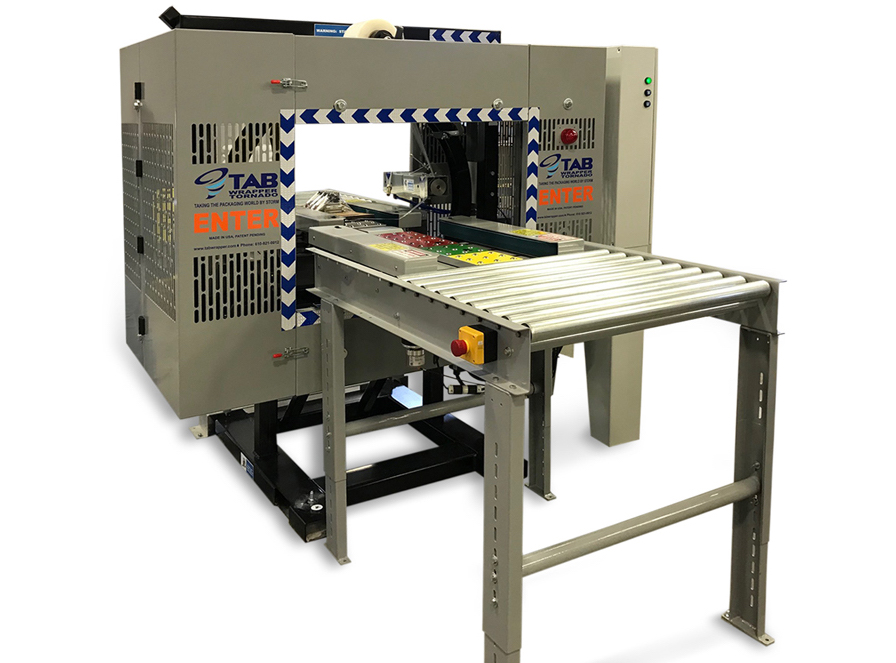 Economic Justification Chart:
"
The TAB WRAPPER TORNADO® provides a faster, more efficient, and effective way to secure processed parts on pallets."
James Morgan
Director of Corporate Operations
Siskin Steel and Supply
Chattanooga, TN