Smart Controls
The TAB Wrapper Tornado Smart Controls models transform the TAB Wrapper Tornado Standard, semi-automatic wrapping machines into automated wrapping machines. This orbital wrapping system offers an easy way to upgrade the level of automation and boost the speed, efficiency, and safety at a highly economical price point. 
To use the Smart Controls models, the forklift operator raises a pallet load and drives towards the center of the wrapping ring, attaches the end of the stretch film to the pallet, and returns to the driver's seat with the corded or optional wireless remote control in hand. Pressing and releasing start once on the remote, the TAB Wrapper Tornado Smart Controls automatically sets the film dispensing unit at its home location in the wrapping ring using a position encoding system then encircles the pallet load 360 degrees around and under the pallet and the product in protective plastic. The forklift operator gradually moves forward or back until the wrapping is finished. This process secures the load directly to the pallet as a stable, unitized pallet load that locks everything in place to stop shifting and sliding off the pallet – no more rejected orders due to damage in transit. With the Smart Controls, a single press and release of the start button on the remote starts the machine as a non-stop, continuous process instead of requiring the operator to hold down the start button as on the Standard model pallet wrapping machines.
When complete, a single press and release of the stop button on the remote control stops the wrapping process. The Smart Controls automatically cut the stretch wrap and hold onto the end of the film roll so it's ready to wrap the next load. Then the operator sets the wrapped pallet on a storage rack, in a delivery truck or staged as work in process. The corded remote is placed back on the machine just as on the Standard models. 
The entire pallet wrapping operation can be safely performed by a single operator in less than one minute without using any banding, strapping, boxes, crates, corrugated containers or conveyors. The pallet stays on the forklift throughout the entire wrapping process.
The TAB Wrapper Tornado Smart Controls offers all the benefits of the Standard models and adds an extra level of speed, ease, and convenience.
TAB Wrapper Tornado Smart Controls Model Sizes:
80" Accommodates 48″ x 48″ skid

100″ Accommodates a 60″ x 60″ skid

115″ Accommodates a 50″ wide pallet x 95″ tall
Call Andy Brizek at 610-921-0012 or abrizek@tabindustries.com for a free quote.
Enhance the Smart Controls models with these optional upgrades: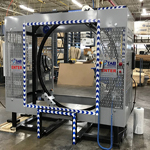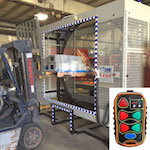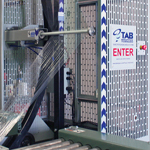 Economic Justification Chart
"First seeing the TAB WRAPPER TORNADO in 2014 at FABTECH, I was a bit surprised a shipping product made my top 10 potential advancements list to review for my entire plant. After seeing further automated advancements on the TAB WRAPPER TORNADO in 2017, we made our purchase. The only regret was waiting 3 years to do so. Not all wrapping machines are created equal and the TAB WRAPPER TORNADO'S unique wrapping technology has proven to be super-fast and reliable. We now have extreme confidence when our packaging leaves our dock!"
Nick LaVigne
Plant Manager
Monti Incorporated
Greenwood, SC