The TAB Wrapper Tornado orbital wrapping system features designed-in mobility as a standard convenience. The rugged, steel frame includes built-in fork pockets that allow lift trucks to safely lift and transport the stretchwrap machine. Move it from one conveyor, assembly line, loading dock, or packing area to another, from one CNC workstation or department to another, and even from one building to another as needed. Moving the orbital wrapper to the product means less product handling and minimizes the risk of damage to products in process. It also allows automated pallet wrapping to be added at multiple locations in the plant without investing in multiple machines.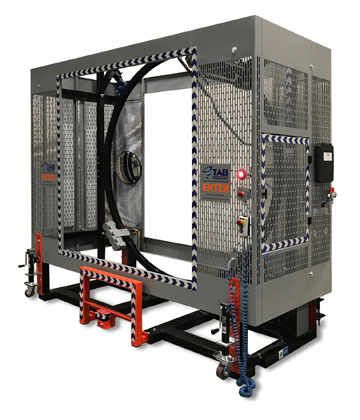 Or, try the optional portability package that allows one worker to safely move the TAB Wrapper Tornado without a lift truck or any other equipment. This package sets the stretch wrapper on heavy-duty casters with mounting brackets. When it's time to move the machine, a worker just turns a crank to lower the casters onto the floor and raise the wrapper off the floor. Then it can be easily rolled throughout the facility. Once set in the new location, the casters can be raised in seconds and the machine lowered onto the floor with a turn of the crank. Then it's ready to plug in and operate.
Call Andy Brizek at 610-921-0012 or abrizek@tabindustries.com for a free quote.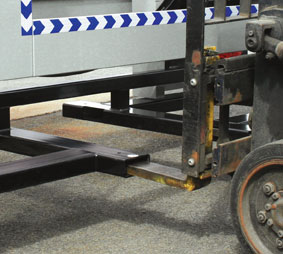 "The TAB WRAPPER TORNADO is working great and I know for a fact that the guys love it, in fact I am not sure we would have survived without it- it saves a lot of time."
Vanessa Heim
Strategic Development Manager
Brenco Industries
Delta, BC, Canada